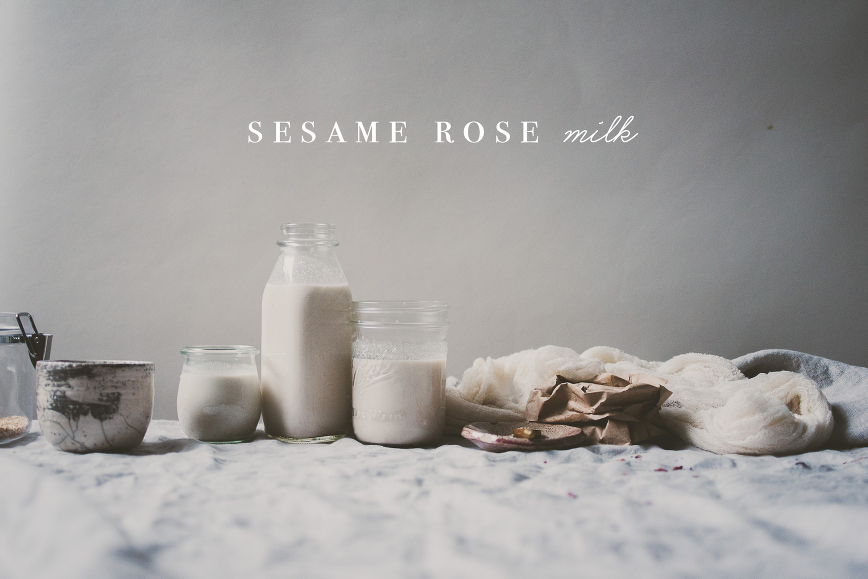 …. the not-nut milk!! I talked a few posts back about my nut allergy, and how sesame seed has been my go-to. That hasn't changed, and when nut milks started popping up around the web, I became desperately jealous and started to think about what I could do. This was dormant until I saw my beautiful friend Lily's post on orange blossom pistachio milk. Oh, it was just the most poetic combination I'd ever seen. For some reason, I'm allergic to all tree nuts except for pistachios, so for once, I could really imagine what it tasted like. I know I'm an anomaly, so I wanted something that someone who is allergic to all tree nuts could eat – sesame milk! Sesame seeds soaked overnight is blended with steeped rose tea into a milky, frothy drink that I can't stop drinking and adding to everything.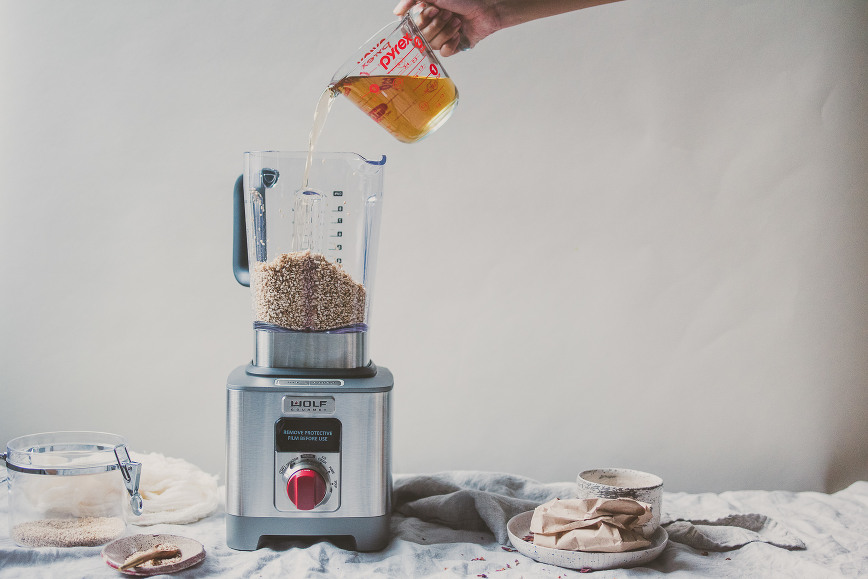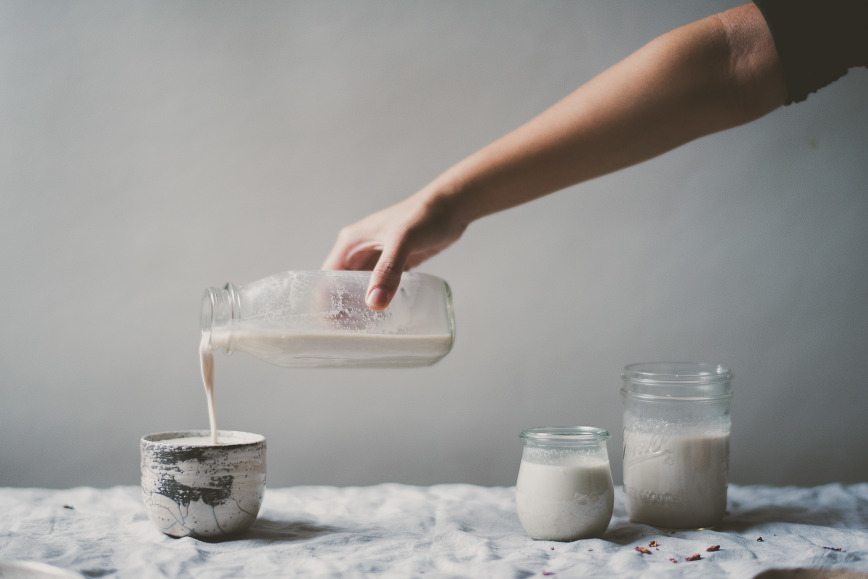 Plus, to continue in this super exciting month of giveaways…. I'm giving away a Wolf Gourmet High Performance Blender! Scroll down for details. Also, I fully acknowledge that choosing just one cheese as a favorite is an immensely difficult task – loved reading each and every comment. If you haven't entered yet, there's one more day left to win assorted Vermont Creamery goodies and a 10″ cheese stone from Farmhouse Pottery! 



Black sesame often takes the forefront when it comes to desserts or treats, often due to its beautiful silvery-grey color when mixed. Have you seen black sesame ice cream? It's beautiful, and delicious! The taste of both kinds of sesame seeds are very similar – the difference is subtle. Black sesame has a nuttier, almost more complex flavor, while white sesame is the sweeter counterpart while retaining its nuttiness. However, today I want to highlight white sesame, which are unhulled. For a milk, I thought white sesame might produce a more mellow version, paired well with rose, and my thoughts were spot on! I'm intrigued enough that I'll probably make a black sesame milk soon, but today, let's talk about white sesame milk.



Seed/nut milks are simple. They are soaked in white for a few hours or overnight, and then blended with water until creamy and smooth. I was skeptical at first about how it would turn out – the steeped rose tea took on a reddish brown hue, but when the two are pureed together, the white pulpy seeds dominated the mixture and yielded this beautiful, milky and frothy drink. The taste is as you'd expect – nutty, sesame-y, with the fragrance of rose and a natural touch of bitterness. I thought a heaping tablespoon of honey was fine, but I'm also used to drinking unsweetened soy milk, to give a reference. My husband thought by itself the milk was a bit too bitter, but I actually enjoy that natural flavor. My favorite way to drink this is warmed up with a sliver of fresh ginger and another dash of honey. I've been using it as a base for smoothies, oatmeal, and even sauces!



Find the recipe over at Food Notes, and don't forget to enter the giveaway below!
---
GIVEAWAY
This week, I'm giving away an amazing Wolf Gourmet High performance Blender (Retail $799)!! It's seriously amazing and I'm beyond excited to be giving one away. I had a faulty blender previously – it was so bad that chunks remained no matter how long I ran the blender. I stopped using it entirely and just relied on a handy immersion blender for soups. But smoothies or juices or milks? Nope. Then, I received this blender and my world opened up to all sorts of purees, smoothies, and milks. Blending it to this consistency took less than a minute at the "puree" function. It's pretty soft, easy to clean, and honestly, just a sexy looking blender. To enter, just fill out the widget below and leave a comment telling me what you'd make with the blender. For extra entry, make sure you're on my email list! If you're already on it or cannot enter your email in the subscribe box floating around for some reason, just leave a comment saying either you're on it already, or that you'd like to be added. Good luck!
This post is sponsored by wolf gourmet, who is also providing a high-performance blender to give away to my readers! All op inions expressed are purely my own, as always. Thank you so much for supporting the companies that support this blog!!! This blender is seriously magic and amazing – super smooth. I ground the sesame seeds in the blender instead of my normal spice grinder, and it is SO MUCH BETTER. Life changing. 
Ceramics by The Freaky Table!
This content was originally published here.