9 Easy Vegetarian Lasagna Recipes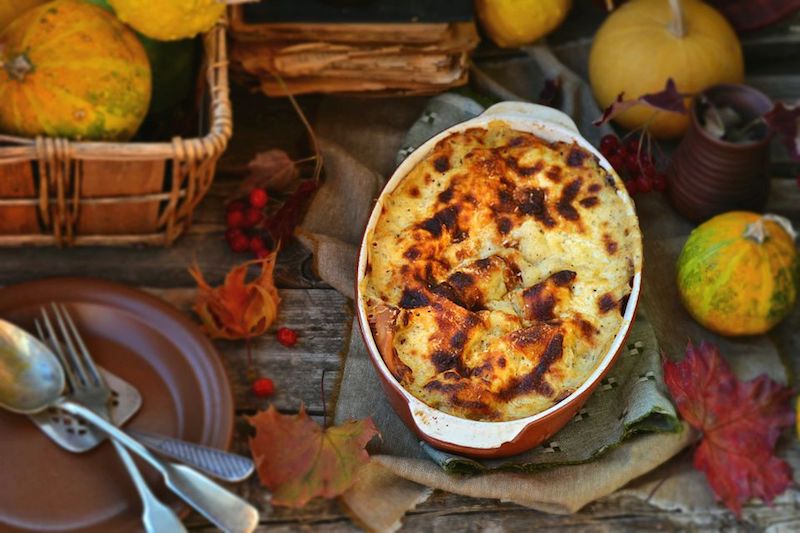 Tova Teitelbaum / Getty Images

Make your vegetarian lasagna just a bit healthier by using this vegetarian lasagna recipe, which calls for whole wheat lasagna noodles, spinach and three kinds of cheese. Even though it uses whole wheat noodles, this homemade meatless lasagna is incredibly rich and creamy as it uses plenty of ricotta, Parmesan, and low-fat cottage cheese.

Jason Lugo/E+/Getty Images

This is a very simple and easy vegetarian lasagna recipe full of healthy spinach and eggplant. It's a cheeseless vegetarian lasagna recipe, so it is much lower in fat than a traditional lasagna, with less than 5 grams of fat per serving. One recipe reviewer used zucchini instead of eggplant and said this lasagna turned out great!

Layered with crumbled tofu and plenty of spinach, this recipe for a vegan, cheeseless tofu lasagna is hearty and flavorful. No cheese means this recipe is much lower in fat than other traditional lasagna recipes, while layers of spinach fill it up with plenty of healthy vegetables.

Brian Hagiwara / Getty Images

Meatless lasagna roll-ups! This vegetable lasagna is made with pesto and sweet potatoes. Instead of layered, the noodles are rolled into individual portions, then topped off with Mozzarella cheese. If you're looking to explore or add to your cooking repertoire, try this rolled lasagna recipe in place of your usual lasagna.

Continue to 5 of 9 below.

If you've heard about the Engine 2 Diet here's a sample recipe to try. This is Rip Esselstyn's "Raise the Roof" sweet potato vegetarian lasagna with tofu and plenty of healthy veggies. It's so good, diet creator Rip says, that he served it at his own wedding! It's also low in fat and cholesterol-free. This Engine 2 Diet vegetable lasagna recipe packed full of broccoli, corn, mushrooms, carrots and more vegetable goodness.

Zoryana Ivchenko/Moment Open/Getty Images

Pumpkin lasagna? That's right! This meatless ricotta, mozzarella, and Parmesan lasagna is made with a sage and pumpkin cream sauce in place of the usual marinara sauce and layered with sautéed mushrooms and onions. With 17 grams of protein per serving, this is also a high-protein option for vegetarians.

Flickr / Kirsten K

Yes, you can make a vegetarian lasagna in your crockpot! This vegetarian and vegan lasagna recipe can be prepared and assembled in the morning, then slow-cooked all day for a healthy vegetarian meal whenever you're ready to eat it!

Cultura/Brett Stevens/Riser/Getty Images

You can use a fat-free ricotta cheese to make a very low-fat vegetarian lasagna. It's also got plenty of fresh vegetables so it's healthier than many other lasagna recipes and is a good source of fiber and nutrients. This is a good vegetarian lasagna recipe if you're cooking for kids.

Continue to 9 of 9 below.

Looking for more healthy vegetarian dinner ideas? Scroll through this complete collection of simple meatless dinners the whole family will enjoy, from Indian curries, to simple stir-fries and classic and all-American vegetarian casserole favorites. 
This content was originally published here.