This Evidence Based article was written by
The slow cooker can become your best friend if you know how to use it to make healthy and delicious meals. It's one of those things that you can set up before you head to work, and come home to an amazing-smelling kitchen and be ready to eat. Here are dozens of healthy slow cooker recipes that focus on simplicity, nutrition, and deliciousness.
Chili
Chili lends itself quite well to a slow cooker, allowing all of the ingredients to get fully cooked and intermingle with each other. Here are some healthy chili recipes you can set and forget.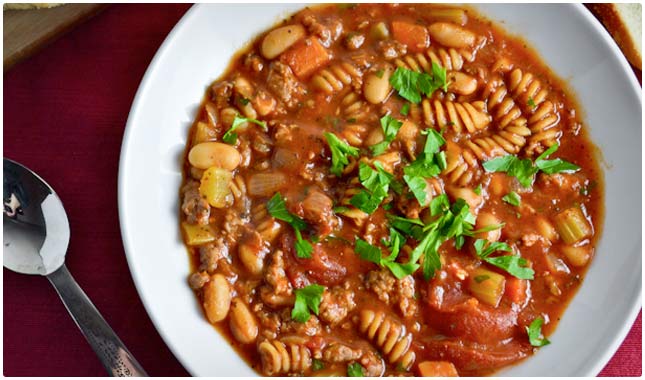 Photo: amyBITES
1. Slow Cooker Italian Chili – Here's a nice Italiano-style chili that gives you plenty of different flavors while respecting your waistline. They've included such classic ingredients as canellini beans, red wine, and garlic. There's also Italian seasoning, and turkey sausage cooked Italian style and spicy. The rotini pasta really puts the finishing touch on this chili that's sure to please.
2. Slow Cooker Quinoa Chicken Chili – Any time you add quinoa and chicken to a chill you're going to end up with a healthier version than if you're using ground beef and cheese. The nice thing is that the quinoa doesn't need to be pre-cooked, which saves time while adding more fiber and providing the other health benefits of quinoa. Corn and bell pepper help round out the meal and provide even more nutrients.
[AdSense-A]
3. Slow-Cooked Black Bean Chili – Black beans are a great food to start adding more of to your diet if you're trying to be more healthy. They add fiber, and help regulate blood sugar levels. They're low in fat, and are very versatile. Adding them to this slow cooker chili works because they'll cook up nice and tender and add a hearty flavor. Portabello mushrooms and tomatoes give it extra health benefits.
4. Slow Cooker Chicken Taco Chili – If you want chicken tacos but with the convenience of everything in one bowl, this recipe is for you. It has all of the things you'd expect from a chili, including plenty of beans, corn, and chili powder, but it also fuses together with all of the things you'd expect from chicken tacos, namely chicken and taco seasoning. They use skinless boneless chicken breast to keep it healthy.
5. Crock-Pot Buffalo Chicken Chili – Here's a taste sensation that's sure to please the men in the house. It gives the taste of buffalo chicken without the messiness of eating wings. It might not have the look of a traditional bowl of chili, but that's because they've added a bit of blue cheese crumbles to the top so you're getting the full wing-eating experience, without all of the fat of deep frying.
6. Mixed Bean Chili – Beans are a staple in most chili recipes, and here they get the main spotlight. Rather than make it hard on you by requiring separate cans of different beans, they say to just pick up a can of mixed beans. The other ingredients are pretty standard chili fare, with an emphasis on healthier options, and they've managed to keep it . A secret ingredient makes it worth trying.
7. Slow Cooker Turkey Chili – By substituting out the typical beef that goes in chili, they're successfully making this more of a healthy option. Just be sure that the ground turkey you choose is lean. It will usually be labeled as such, and will have the American Heart Association sticker on it for the lean variety. The emphasis is on quick and tasty here, so it won't take long to put together this healthy chili masterpiece.
8. A Healthy Version of a Slow Cooker Chili – Here's a recipe that tries to healthify the standard chili we all know and love. They're using ground turkey for the meat, and they've got all of the regular players like pinto beans, onions, and corn. They cheat a bit by using a chili packet, and have opted to go with a two alarm variety for added spiciness. Can't fault them for going the easy route.
9. Slow Cooker Chili – The name might be a bit bland, but the chili won't be. Celery, carrots, and plenty of beans mean that you're getting all of the nutrients and vitamins you could want, and the array of spices insure that this is going to satisfy even the pickiest of palates. The addition of avocado on the top is a great garnish option, adding more flavor and supplying a good dose of healthy fat.
Indian
Indian foods are typically easy to make once you get the hang of them, but using the slow cooker means that they're even easier. Here are a handful of healthy Indian recipes with very little work involved on your part.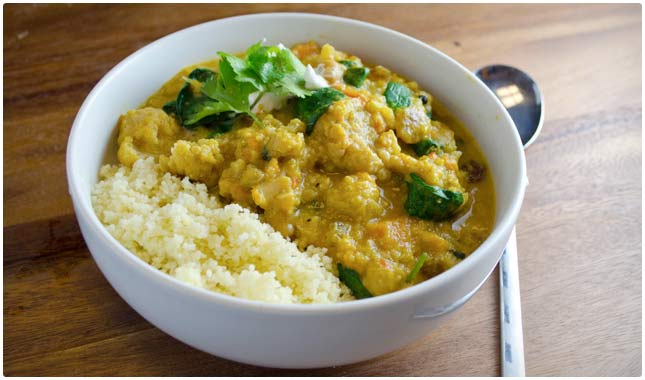 Photo: My Faboulous Recipes
10. New Delhi Vegetable Curry with Couscous – Vegetables do a great job of getting infused with the curry flavor and holding onto it until the last bite. Because it's served with a side of couscous you're getting the benefits from that as well. If you want to add some extra protein to this you can simply add some chicken breast to it. Chicken also works well with curry, and would round out the meal nicely.
11. Indian-Style Curried Eggplant in the Slow Cooker – If you've always thought of trying out Indian food, using the slow cooker might be the best way to get started. And here's a dish that doesn't use any meat, but provides a rich curry flavoring you're sure to come back to again and again. The best part is it doesn't involve using a lot of heavy or fatty ingredients, so it's a great side dish for most diets.
12. Chicken Tikka Masala Pizza – A pizza you can make with a slow cooker? Kinda sorta. The crust you make separately, but the toppings all go into the Crock Pot so that you don't have to fuss with them. Then it just becomes a matter of layering them all on top of the pizza and you're good to go. The best part is this works for Paleo-style diets, since the crust doesn't involve using any grains.
P.S. Take a look at the 5 veggies that boost female metabolism and burn off lower belly fat.
Page 1 of 5:
Pages: 1
This content was originally published here.